Squash Competitions & Results
Posted on
Wed, March 28, 2018 18:18:36
Ladies Racketball Cup Competition 2017/18 season
The first ladies racketball cup competition in Devon was won by Devon and Exeter
ladies.
Winners D&E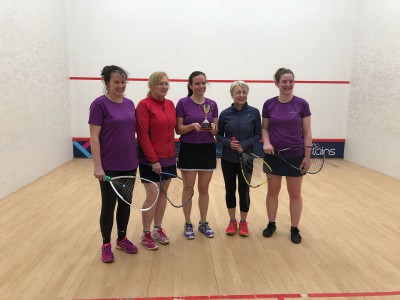 It was an excellent match. The result was only decided in the last tie played.
Results (Newton Abbot names first)
Vickie Evans beat Karen Bealey 16/14 15/10 15/12
Ann Scott lost to Susie Hill 11/15 9/15 5/15
Denise Corby lost to Ann Hancock 16/4 13/15 9/15 10/15
Rose Wood beat Lorraine Barnes 15/11 15/11 5/15 15/12
Sally Mutton lost to Mandy Blackmore 12/15 6/15 16/14 4/15
Devon and Exeter won by 3 matches to 2.
Runner Up Newton Abbot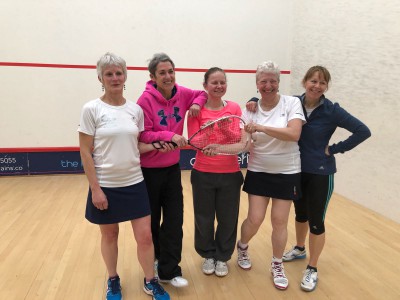 Thanks to Dean Clayton for refereeing .
Devon and Exeter Racketball 2 team also won the ladies league this year. They just
won more points at the end of the season and finally overtook Torquay who had
been top of the table nearly all season. The Michael Spiers league cup was
presented after the presentation of the racketball competition cup.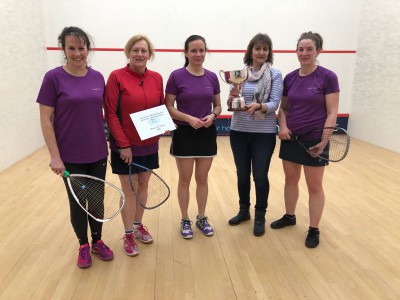 The finals evening played at Newton Abbot was a very good evening with many
spectators coming to support both teams and to watch a very good standard of
racketball.
After the match Newton Abbot provided some excellent refreshments.
To thank Louise Angie Andrews from D and E produced the following entertaining poem.
It was a fitting end to a very enjoyable and successful first racketball cup final.
BEST FOOD EVER !
Writing fun sonnets is what I like to Do,
Louise I wrote this one just for You.
We travel to many clubs to play our Racketball Matches,
But Newton Abbot serve up the best Catches.
When we arrive you appear with a big cheery Smile,
Menu in hand, ready to go the extra Mile.
Meat, fish or a veggi Dish,
Always willing to knock up what ever we Wish.
Nothing for you is ever to much Trouble,
Your portion sizes are always Double.
Wholesome & tasty it arrives piping Hot,
Its always a challenge to devour the Lot.
In the kitchen you are a true Master,
I know no one else who churns out top food Faster.
So putting all these points Together,
Louise, Your top of the Devon league,
for the BEST FOOD EVER!!
Alison Samuel
Ladies league secretary